All About Lamb :: Family Dinner Recipe
Sunday family dinners have been a long standing tradition in my home. A tradition I carried with me through college. After all, my friends became my family away from home. Now that I'm back in Miami, Sunday dinners become more of a testing kitchen. We try interesting and new recipes that look incredibly delicious despite how difficult they may seem. A few weeks ago, we adapted a recipe from JW Magazine and it turned out amazingly well. The original recipe itself was not too helpful in terms of amounts for the ingredients so you'll have to adapt according to the number of guests and adjust the flavors to taste. While the recipe leaves some wiggle room for creativity, there is no doubt that this is a beginner friendly recipe that will have your guests thinking you're a Top Chef!
Leg of Lamb Castellano
What you need:

1 lamb leg or shoulder (size varies on the number of dinner guests)
1 cup olive oil
1 head of garlic
4 sprigs of Thyme for garnish
1 Tbsp. of dried Thyme
12 oz. of Dry white wine
2 lbs. Yukon gold potatoes
2 large White onions
1 Tbsp. of Paprika
2 Lemons
Salt and pepper to taste
How you do it:
Preheat your oven to 350 degrees.
Take 8 cloves of garlic and set aside. Mince the remaining cloves of garlic.
Mix the olive oil, minced garlic, paprika, dried thyme, salt and pepper in a small bowl.
After you've washed the 2 lbs. of Yukon gold potatoes, cut the potatoes into 1/4″ slices and place evenly in an oven baking pan.
Julienne (long, length-wise cuts) the onions and distribute evenly among the potatoes in the oven baking pan.
Take the lamb leg or shoulder and make 8 slits with knife.
Insert one garlic clove into each slit in the lamb.
Take the lamb leg or shoulder and coat the entire lamb leg or shoulder with the spice marinade. Make sure to coat evenly.
Either make some more of the marinade or take any remaining marinade to toss the potatoes and onions in.
Place the lamb leg or shoulder on the evenly distributed potatoes and onions in the oven baking pan.
Bake in the oven at 350 degrees for 20-30 minutes per pound for medium well to well done.
Tips:
I used a lamb shoulder that did not have a bone. I prefer lamb medium to medium rare so long as the internal temperature is at 350 degrees and the center is pink, it's good to go. I created much more of the spice marinade so that the lamb shoulder looked almost a bright color. This ensured each bite had a delectable bite of goodness to it. I also made more than 8 slits into the lamb for additional pieces of garlic. This way everyone got at least one or two cloves in their portion of lamb.
Jaded Rice with Dried Fruit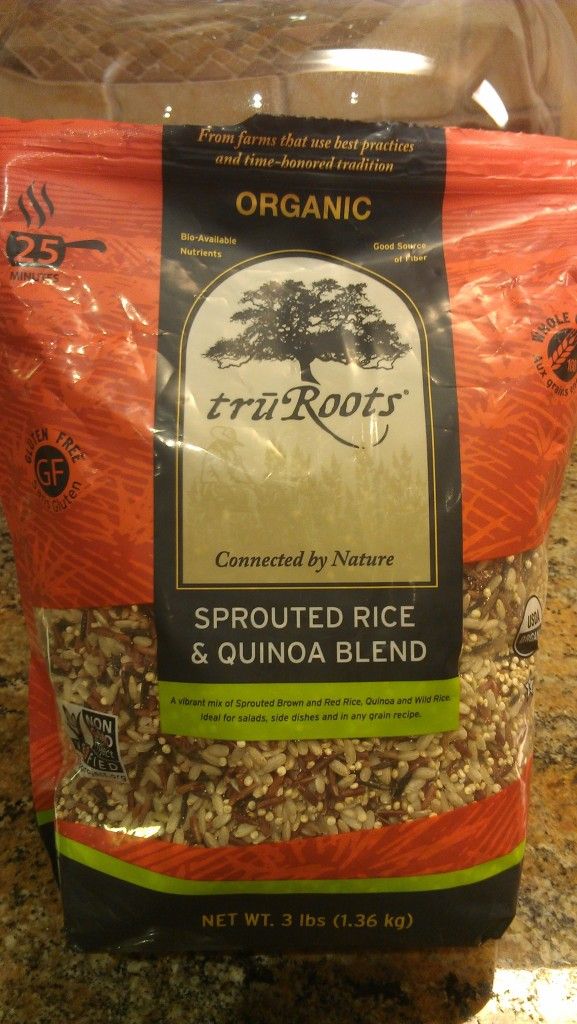 What you need:

2 cups rice
2 cups water
1/2 cup dry Apricots
1/2 cup Craisins (dried cranberries)
1 medium yellow onion
1/2 of a Lemon
1/2 bunch of Cilantro
1/2 cup vegetable oil
How you do it:
Cook the rice as instructed on the package. Roughly chop the apricots and the 1/2 of a lemon into small pieces. Dice the onion and roughly chop the cilantro. In a separate pan, saute the diced onion until lightly caramelized. Add the dry fruits and lemon. Incorporate the rice and salt and pepper to taste.
Tips:
The recipe calls for Basmati rice; however, I prefer this blend to the right. It has sprouted rice and a quinoa blend that provides a little bit of everything for everyone. More importantly, it provides a wider range of flavors. It's also a bit healthier. Something about two birds…?
Colorful and flavorful. Total crowd pleaser.
These are two easy recipes that will make everyone think you've spent an entire day cooking when in reality, you'll be done prepping in about 30 minutes. You and your guests will be full and wanting seconds of this flavorful meal.