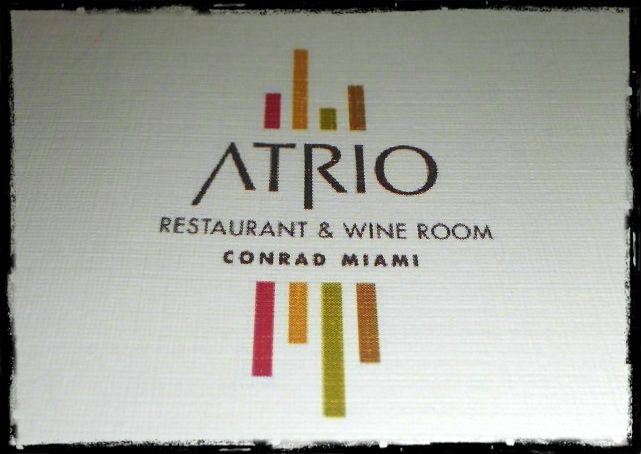 If you haven't heard, Miami has some stellar restaurants in some of the snazziest hotels in town. Not only do these venues offer tasty bites from some amazing culinary masters but they also provide some of the most breath-taking views our Magic City has to offer. Atrio Restaurant and Wine Room does not fall short in either category.
This contemporary restaurant provides a little bit of something for every palate, whether its from the garden, ocean, homestyle flavors or the grill. The portions are just right, the staff is ubber friendly and the ambiance lends itself for a great date night or catch up dinner date with your best girlfriend. And unlike other hotels in the area, Atrio validates your parking! Great meal, excellent city and bay views, and free parking? Bonus!
Appe-teasers
Red Snapper Ceviche with aji amarillo, cilantro, ginger and yuzu. This was absolutely delicious and refreshing. It is perfectly layered with a creamy start, a tender and fresh bite of red snapper, finished off by the sweet and tangy of the ginger. It would have been nice for the ginger flavor to not just surprise you in the last few bites but as one of my favorite flavors out there – it was a pleasant surprise to a great starter dish!
Burrata & Heirloom Tomato – this is a classic dish found in many restaurants. Not to mention, one of my favorite comfort foods. The make or break of this traditional plate is the freshness of the tomatoes and the quality of the burrata. These tomatoes are clearly not local – it's too hot for such tasty tomatoes to come from this area this time of year. The burrata was perfect. Check out the just right outer layer of the mozzarella and the visibly creamy center. I could live off this stuff!
Main Meal
Grilled Hanger Steak is a home-style dish that provides just the perfect amount of comfort for a mid-week meal and this plate provides that with a twist. At first, I was hesitant when I saw the dish was accompanied by a chorizo and apricot salad but what a combo! The chorizo was more of a tender yet dried out version of its usually greasy-self that provided a savory balance to the sweetness of the apricot.  Combine those flavors with the bite-sized potatoes and it was heavenly. The creamy Manchego polenta was not as over powering as I thought it would be given the strong flavor of Manchego cheese but it was a great finish to the perfectly salt and peppered grilled hanger steak.
Orecchiette Pasta Primavera is just the right dish for those looking for a filling yet light meal. I'm typically not a fan of tomato based pastas but this dish was not overpowered with tomato sauce. It was actually more just the pieces and juices of the tomato from being cooked down that provided the slight coating for the sauce. This dish provided various textures, as each bite provided a snap of the asparagus, the al dente orecchiette pasta provides the perfect mini-scoops for the bits of tomato and artichoke. The zucchini was hidden at first bite but it was definitely there to provide some added flavor and color to the dish. The basil oil really brought all the flavors together.
Sweetness
I'll be honest – we had two desserts but only one is really worth mentioning. Sorry, Atrio!
Doughnut Bread Pudding. Warm, sweet, glazed doughnut drizzled with caramel sauce … I'd go back sooner rather than later just. for. this. Don't bother even glancing at the other desert options. This is dessert.
Marinate Miami at Atrio at the Conrad Hotel on Brickell on your next date night or stop in for a great meal while playing catch up with friends – either way you won't be disappointed, especially if your night ends with the doughnut bread pudding!