gigi – no, not that movie.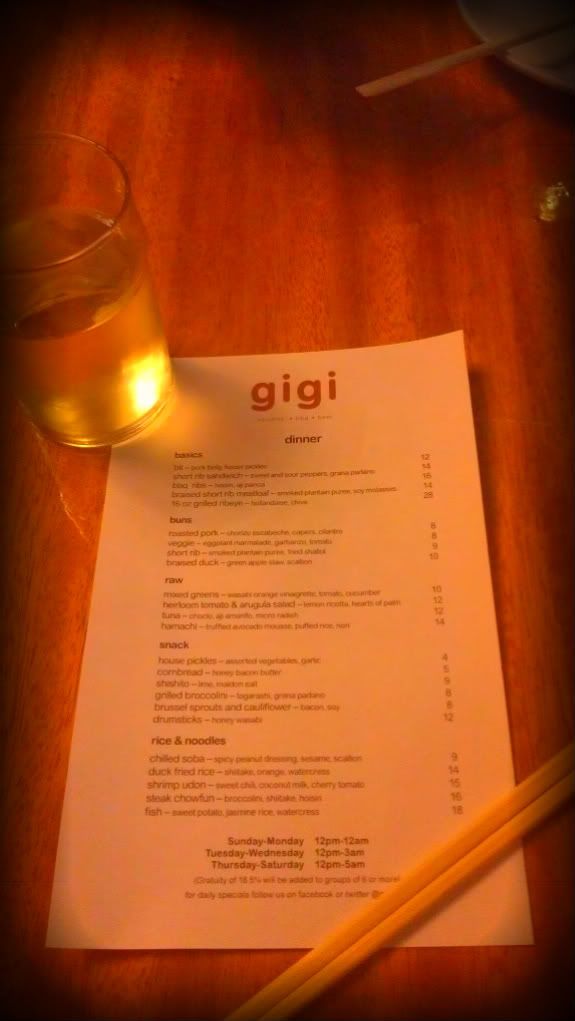 Yes, they've been open for quite some time and yes, we're likely the last bunch to try the place but the old adage holds true – Good things come to those who wait! gigi is a noodles, bbq, and beer joint in the heart of Midtown and as far as we can recall was one of the first locations in Midtown that always had a line around the block. If you go on a Saturday night, you will wait because gigi unfortunately does not offer reservations. If you stick it out, we promise you won't be disappointed.
Being someone impatient ourselves, we opted for a weeknight meal at gigi. Walked right in at about 7 p.m. and waited .1 seconds for a table. Good thing, too since the place started getting packed within 10 minutes! phew! Everything on the menu seemed outstanding and we had a difficult time deciding what we wanted to sample. It's a good thing the plates (for the most part) are tapas style so it allows you to try a variety – at least one from each section of the menu.
We ordered all the mouth watering plates below with two glasses of wine and paid $55! Not a bad deal if you ask us – where else can you really get all this food with drinks for that cheap?

1) We started our meal with their corn bread. o.m.g. If you love loaded potato skins and crave Southern-style corn bread – this is heaven. It's a must order actually. It's amazing how the bacon flavor just sneaks up on you as you're about to swallow the last little chew of corn bread – graphic enough for you? Maybe but it's just that amazing.
2) Brussel sprouts and cauliflower – Let us say, cauliflower is not our favorite. However.. this dish made us think twice and we've decided to give it another go around and we're glad we did – maybe it's because the bacon and soy disguise the natural flavor of the cauliflower. Whatever it is, it was amazing. The brussel sprouts. Why didn't we like this as kids? It really is a great vegetable. While our love for this ill-reputed sprout began at Sakaya Kitchen, gigi provides a slightly healthier alternative. This is the lightest Asian flavored version we've encountered thus far.
3)Pork Buns – refreshing, filling and in your face flavor. Perfect selection for the in-between snack. Let's be real – this could have been our main dish but who really has just three tapas?
4) Duck Fried Rice – fried rice is a guilty pleasure and adding duck to almost anything increases the awesomeness of any great dish. Usually crispy skinned duck is our preference but the mix of textures with the rice and the veggies made this hearty dish worth the wait.
5) Cinnamon ice cream – dessert isn't our favorite. Salt and savory is the way to our heart. Maybe the nut allergy has something to do with it…? Restaurants really should recognize how popular a tree-nut allergy is and offer a variety of non-nut desserts. We digress. Back to the savory dishes of gigi. One of the best ways to finish a meal is with a bit of sweet with some kick. Cinnamon ice cream provides just that, while too much can be a bit overwhelming this precious little cone provides the perfect amount to refresh your palate and your tummy content. It's also a flavor not too many restaurants offer (shame on them) and it's a great alternative for the nut-adverse.
The verdict? It's a great place to go in a group (ability to eat one of everything duh!) and it's inexpensive for the quality food you're getting. There is something for everyone and the menu changes often with some great specials. Go early or go late (they're open till 5 a.m. on the weekends for your party animals out there!) Their mission is to explode the food landscape of Miami and they have done just that with quality food, in a laid back atmosphere at amazing prices.
gigi – location & hours
Sunday – Monday: 12:00pm – 12:00am
Tuesday – Wednesday: 12:00pm – 3:00am
Thursday – Saturday: 12:00pm – 5:00am
Brunch Hours: Sat & Sun 12:00pm – 6:00pm
Lunch Hours: Mon-Fri 12:00pm – 6:00pm
3470 North Miami Ave Miami, Florida 33127