Sustain :: Miami's Hangover Brunch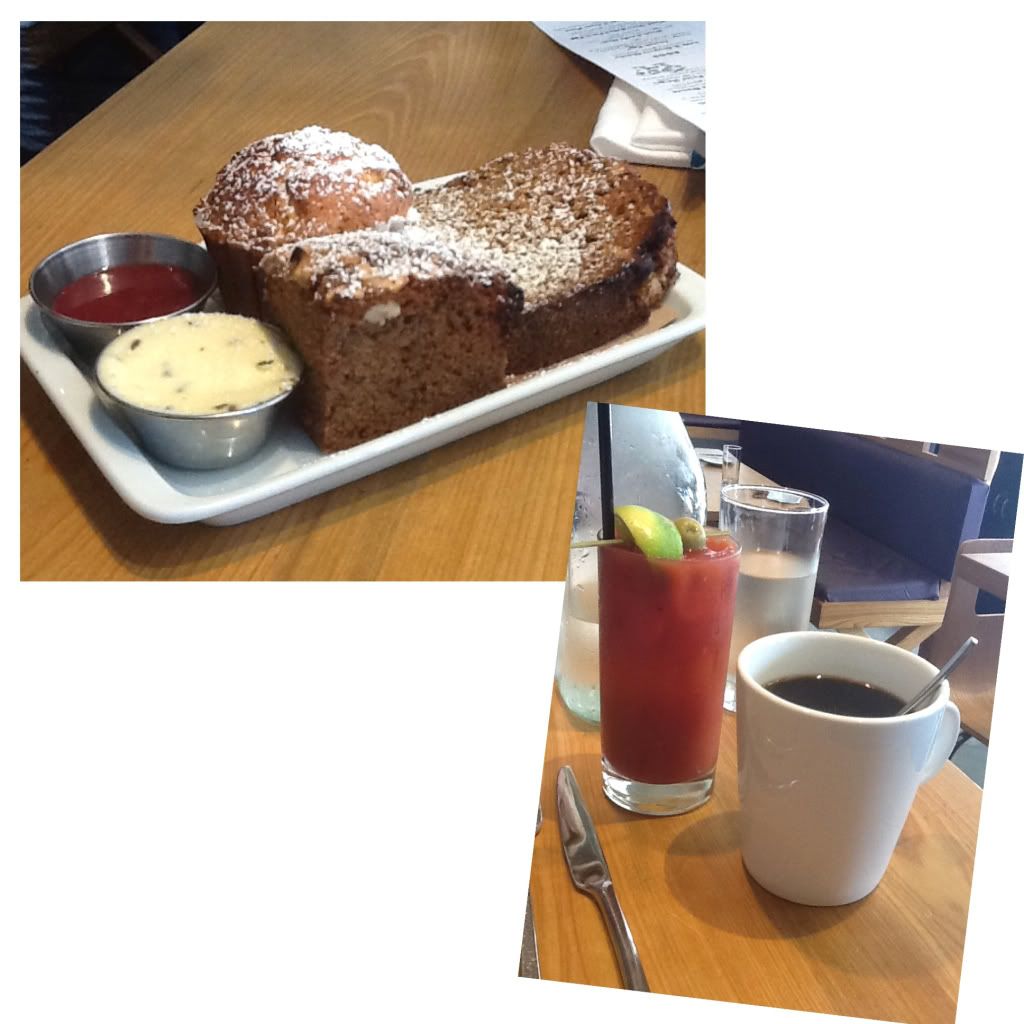 After a long night of partying, what is the best way to push through Sunday Funday? Continue the party at brunch, of course! And where does this party continue? Sustain in Midtown Miami. With beats by Sustain's Sunday Brunch Resident DJ, The Ramon from WVUM and killer food, there really is no other way to ensure that hang-over gets kicked to the curb.  After two sips of an in your face Bloody-Mary, 10 minutes into the first set and a few savory bites of southern style cornbread with lavender butter, you're well on your way to rounding up the weekend's festivities in the best way possible.
Sustain's mission is to supply food, drink and other necessities of life (like good music!).  Another MM favorite, Sustain supports local farmers and businesses by using as much natural, local and organic products as possible (love!).  They feature seasonal American comfort food with flare. Sunday should be the day of rest but who lives and enjoys by resting?! If you can, do; we can, so we will and boy did we! Check out our gluttonous meal below.
Turn up the beat.
The breadbasket provided a great variety, especially with the lavender butter but behave and don't fill up because there is so much more to taste! If you're a baked good lover – knock yourself out. Great to start the meal, especially with one of the best Bloody Mary's in town. Know of a better one? Let us know because we want to check it out!
For the main meal, let's be honest, meals – order yourself a good beer like Lagunitas Pills beer. It is light enough to compliment almost all the dishes on the menu, especially the ones pictured to the right.
Bacon donut holes. These are a staple at Sustain and I order them all. the. time. My one complaint? They're not consistent. Always good but not always fantastic, which is what you grow to expect sometimes from quality food. (Yes, bacon donut holes are quality food, especially with dark beer sabayon and maple butter.) The little piglet seemed to have run off before it was included in our batch but still a totally decent pick to nibble on.
Montecristo Sandwich. Two words. Sinfully delicious. 'Nuff said.
Scotch Egg. Hello inner fat kid! Ever feel you have an angel on our right and the devil on your left shoulder? Yes, you have.. and you'll have that same feeling while you eat this amazingly rich dish. Let them debate to sustain your inner fat kid but indulge – it's so worth it. Plus, you need your protein and this provides two forms! Sausage and a hard boiled egg. Enjoy!
Daily Grilled Local Fish. Grouper. Absolute perfection and a great way to end your meal. The flavors and different textures in each layer of the dish make you appreciate the intricate layers once it hits your palate. You can thank the spelt, orange and mint for that.
Foie Gras & Pancakes. (not pictured) Childhood favorite with adult sophistication. Best combination ever! Kinda like a red-velvet funnel cake. The foie gras with the maple syrup just melts in your mouth and the buckwheat pancakes soak up all the flavors. At first glance, you might think the portion is too small but it's just right. Enjoy every bite .. slowly.
Gotta give credit to the waiters and bus boys – the bus boys, especially. Sometimes they are underestimated and it takes some skill to know how to deal with people, when to take a plate away or knowing when to leave it behind because they know it's either the plate or their hand. Watch out for hungry eyes! The waiters are very helpful and knowledgeable about the menu items and where they come from. Most important quality they all seem to possess here? A great sense of humor.
Honestly, if you're looking for a mellow brunch this may not be the place for you – at least not right at noon. After an hour or so, you won't even notice the music blasting and before you know it you'll be bopping your head, singing along wondering how you ever just vegged out on the couch on a Sunday. Don't sustain the urge any longer and check 'em out.