Yardbird's Midnight Chef's Table :: Jeff McInnis & Paula DaSilva
Spending six years at the University of Florida, I became friends with many "southerners". Yes, I'm from Miami, we're technically "the South" but you know what I mean. I learned to appreciate southern hospitality, culture and best of all, southern cooking. Y'all haven't had chicken and dumplings or chicken and biscuits like I've had and that's a fact, especially not in Miami. That all changed with the opening of Yardbird Southern Table & Bar. It was love at first bite and a trip down memory lane – right in my back yard.
On June 22nd, a few friends and I high tailed it to South Beach for a midnight dinner with Yardbird's executive chef Jeff McInnis and 1500 degrees executive chef Paula DaSilva. We were honestly expecting a few bites here and there sprinkled with some good conversation. I mean what more could you expect for $40? Remember that old adage: "When you assume you make an ass of you and me?" Well… let's just say I need to starve myself for the next Midnight Chef's Table because Yardbird has the best. deal. in. town. For $40 (plus tax and tip), we enjoyed a bourbon cocktail and a five course meal. No, not five course snacks. A five course meal. I, having absolutely no shame whatsoever, even requested a doggie bag for a shockingly shy friend.
Hummus, feta, arugula, watermelon, kalamata olives and grilled octopus. Six of my favorite ingredients but never would I ever have thought to combine them into a salad! This was a hearty, sweet and smokey salad. I would have been perfectly happy just eating this the entire night. Chef DaSilva creates excellent steak dishes at Eden Roc's 1500 degrees but her passion is the sea. Her skills were excellently showcased in this dish. It was a perfectly balanced dish that had some kick but a smooth and refreshing finish.
If you want to try a sophisticated twist to southern game food, you need to try the rabbit tacos. The warm tender rabbit meat with roughly chopped brussels sprouts, veggies and queso is the way to go. The corn tortilla was not necessary (of course, only because it was a taco but the same dish in a salad form would have been great!) but made it easier to make sure you got every different flavor and texture in one bite. And yes, I have to admit sometimes eating food with your hands makes the food taste that much better. It does seem a bit more…natural.
I love grilled corn. This seems to be a staple that's making it's way back to fine dining. First at Eating House and now here. My favorite part of each crispy and juicy bite was the pimento cheese with the hint of lime. Really changes the corn on the cob experience. This was definitely a McInnis special.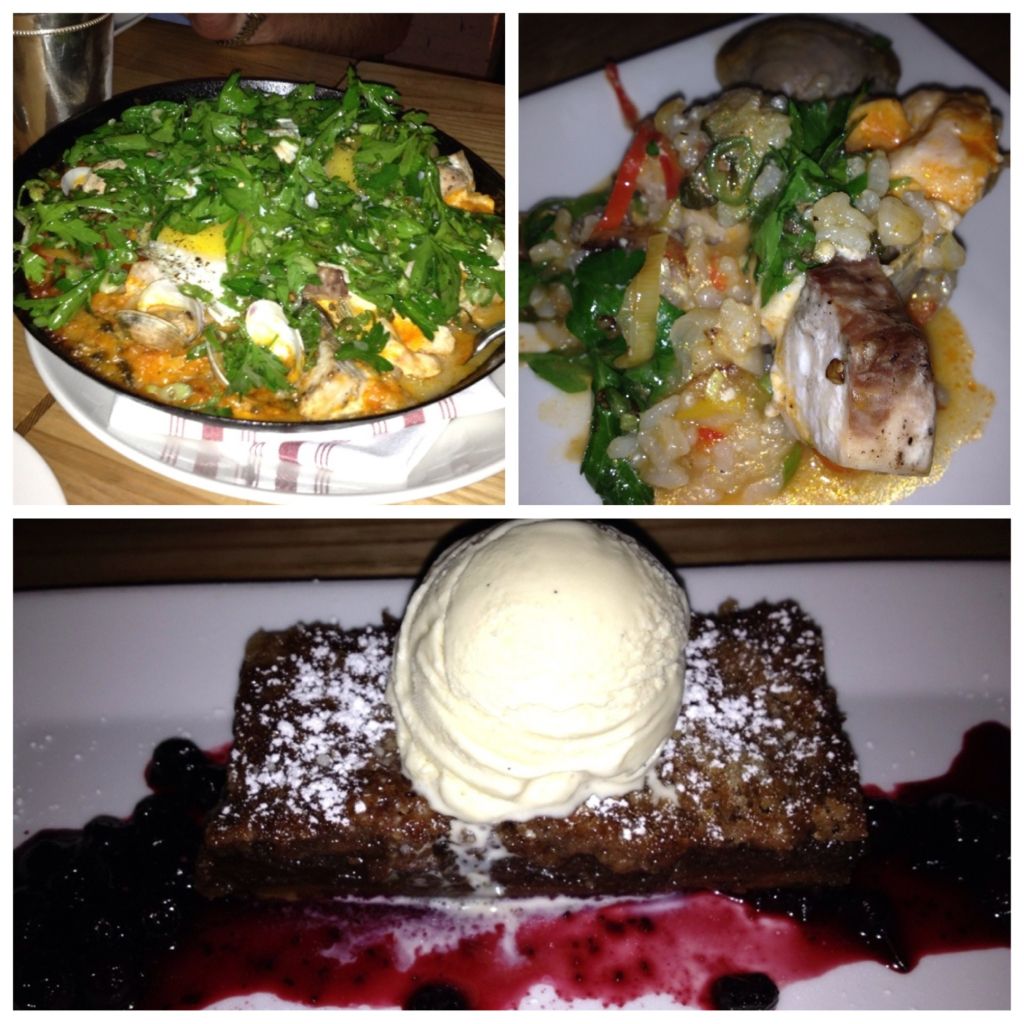 The "main" course was a hearty seafood paella starring swordfish, clams and chorizo. Swordfish is the chameleon of fish, in my oh-so-experienced culinary opinion. It takes on the flavor of any sauce or seasoning used on it seamlessly.  The large pieces of swordfish were surrounded by clams, bite sized pieces of chorizo, shrimp and a huge fried egg. All nestled in a bed of rice. While the bed of parsley that covered the paella surprise beneath provided loads of color to the dish, I preferred a slightly less overwhelming taste on an already flavorful dish.
After all of those full sized meals, we couldn't imagine fitting in another bite. One look at dessert and we quickly changed our minds. Take a graham cracker and imagine it coming out of the oven like freshly baked soft, warm and chewy chocolate chip cookie. Who wouldn't want to dig right in?
If you want a delicious way to end your week .. or start your weekend, call Yardbird and make your reservation to take advantage of Yardbird's Midnight Chef's Table every Friday night at midnight through August 10th. Not only will you eat like royalty but you'll sleep like a baby with a happy belly!
Marinate Miami and experience Chef Paula DaSilva's farm-to-table steakhouse, 1500 degrees, at the Eden Roc and Chef Jeff McInnis' southern hospitality at Yardbird today!